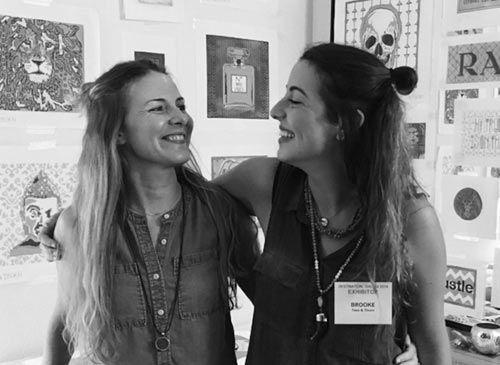 This week we have the pleasure of talking with Brooke Thorn McGowan and Tess Nagle, the talented needlepoint designers who make up Tess and Thorn. Tess and Brooke describe themselves as "young bloods on a stitching mission." We had a riveting conversation about how they got started, their approach to stitching, inspirations and deeper meaning behind their canvases, and their ongoing efforts to introduce younger people to needlepointing. We also got to learn about their design and canvas-painting process and how they work together from two locations.These are two talented and enthusiastic ladies who are definitely injecting young blood into the hobby.–Christine and Gary
Listen to the podcast:
We hope you enjoy this week's Fiber Talk show. You can listen by using the player above or you can subscribe to Fiber Talk through iTunes, Stitcher, TuneIn, Podbay, and Podbean. To receive e-mail notification of new podcasts, provide your name and e-mail address below. We do not sell/share e-mail addresses.
Follow Tess and Brooke and communicate with them through their online channels:
Tess and Thorn canvases are available through your local needlework shop. Stores that currently carry their designs are listed on their website shop page.
Tess and Thorn Recommendations
At the end of the show, Brooke and Tess offered several recommendations. Below are links to those items:
We hope you enjoy this week's conversation with Tess and Brooke. We're always looking for guests, so let us know if there is someone you'd like us to have on the show.–Gary and Christine