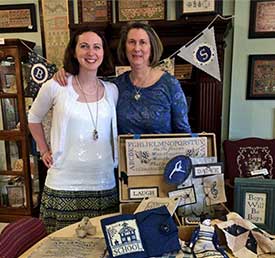 Needlework Press is a unique, multi-faceted business, created and operated by my guests Vickie LoPiccolo Jennett and Maegan Jennett. This week's show is sponsored by Sassy Jacks Stitchery. Needlework press, at its core, is a sampler-reproduction operation. But they go much beyond offering samplers to include writing articles, producing books, publishing a popular needlework calendar, creating printed needlework accessories, and teaching. In addition, Vickie and Maegan are active collectors of antique needlework tools and accessories. Driving all of this is a commitment to present and share needlework history. I'm confident you'll enjoy learning from Vickie and Maegan.–Gary
Listen to the podcast:
The podcast is also available on FlossTube.
Here are some links:
I hope you enjoy this show. I'm always looking for guests, so let me know if there is someone you'd like me to have on the show.
To add yourself to our mailing list and be notified whenever we post a new podcast, provide your name and email address below. You won't get spam and we won't share your address.